Are you searching for ChemiCloud Black Friday Deals?
Then you are in the right place.
Check out this post and learn about the deals from ChemiCloud this Black Friday and Cyber Monday season.
ChemiCloud Black Friday Deals 2023
About ChemiCloud
Chemicloud is a web hosting company that provides reliable and affordable web hosting services.
They offer a variety of hosting solutions including shared hosting, WordPress hosting, VPS hosting, and dedicated server hosting.
Their shared hosting plans come with unlimited bandwidth and storage, a free domain name, and free SSL certificates.
They also offer a website builder, cPanel control panel, and one-click installation of popular software like WordPress.
Their WordPress hosting plans are optimized for WordPress websites, providing faster loading times and improved security. They also come with automatic WordPress updates and backups.
ChemiCloud Black Friday Offers
Reseller – Reseller Packages as low as $5.99 (regular price $29.95/mo) for the first month! Want long-term savings? Sign up for 12/24/36 months and get 25% off the entire term!
Cloud VPS – Dedicated resources at $9.90 (regular price $49.95) for the first month! Extend your plan with a 12-month term and get 2 months of service free!
Up to 94% off New Domain Registrations!
How to activate ChemiCloud Black Friday Discount?
Please follow the steps below to grab the ChemiCloud Cyber Monday Deals and Black Friday Offers.
Step 1: Click on this special link to get to the deals page.
Step 2: Based on your requirement, choose a hosting product.
Step 3: Select the hosting plan and click on the "Order Now" button.
Step 4: Use your existing domain or register a new domain name.
Step 5: Choose your billing cycle period. I recommend a long-term cycle to save more money.
Step 6: Fill in the details to create an account.
Step 7: Enter the payment details and complete the payment.
That's all. You have successfully grabbed the ChemiCloud Black Friday Discount.
Best Features of ChemiCloud
Let us see some of the best features of ChemiCloud.
Worldwide Server Locations
Are you seeking a server in close proximity to your website's audience? Thanks to its nearby server locations, your website can load quickly.
Amazingly, ChemiCloud offers seven distinct server locations on three continents, which are as follows:
Dallas (US)
Frankfurt (EU)
Bucharest (EU)
London (UK)
Bangalore and Mumbai (Asia)
Singapore (Asia)
Sydney (Australia)
Thanks to these worldwide server locations, your website can benefit from a high-performance network featuring fast connectivity and low latency.
Furthermore, ChemiCloud's global network is safeguarded by advanced DDoS mitigation in all of its data centers.
The company has partnered with Cloudflare in over 200 cities to ensure that your website loads quickly regardless of where your visitors are located.
User Friendly For Beginners
For novice bloggers or webmasters, ChemiCloud provides an optimal and speedy hosting service. The users can conveniently manage and operate their websites using the cPanel interface.
Furthermore, ChemiCloud offers extra perks to those who are new to website creation and want to avoid the inconvenience of employing others for designing, constructing, and overseeing everything.
Weebly Website Builder is a part of all shared hosting packages offered by ChemiCloud.
It is provided free of charge along with hosting plans, which also include a domain name.
Therefore, users only need to buy a single account to fulfill all of their requirements.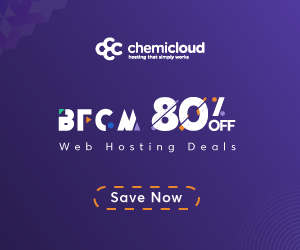 Free Website Transfer
You can get hassle-free website transfers at no charge. This implies that you can migrate your previous or current website to ChemiCloud hosting without any fees.
In case you already have a website and wish to relocate it, there's no need to fret. ChemiCloud will assist you in the process and ensure that your website is transferred to its hosting within an hour.
The transfer will involve a comprehensive cPanel migration. Hence, if you possess a multitude of sites (up to 50), you need not worry.
While some hosts offer more free migrations, ChemiCloud's multiple free transfers are still superior to others.
Managed Security
Regardless of the plan you choose, each hosting account with Chemicloud includes a complimentary SSL certificate from Let's Encrypt, ensuring that your data remains encrypted and safe from hackers.
Additionally, Chemicloud offers a personalized WAF to safeguard your website against various security threats.
Chemicloud also provides daily backups for up to a month, email spam protection, continuous WF patch, and imunify360 malware security.
For added website security, Chemicloud offers a free malware scanner and removal feature exclusively in their highest-tier plan.

Money Back Guarantee
ChemiCloud Hosting guarantees complete satisfaction within the initial 45 days of service, promising a hassle-free, no-questions-asked refund.
This assurance is a testament to their confidence in their services. Our assessments of HostGator, HostArmada, and FastComet indicate similar refund policies as ChemiCloud Web Hosting.
This implies that you can utilize the hosting service for more than a month and receive a refund if any problems arise.
The money-back-guarantee is applicable to all shared, reseller, and WordPress hosting packages, with a 15-day guarantee for Cloud VPS packages.
In light of these factors, investing in ChemiCloud's swift and dependable web hosting is a wise decision!
Pros and Cons of ChemiCloud
Let us see the pros and cons of using ChemiCloud.
Pros
Free domain for life
Free SSL certificate
99.9% Uptime Guarantee
Quick Customer Support
45-Day Money-Back Guarantee
Free Site & cPanel Migrations
Worldwide Server Locations
Cons
No monthly billing option
Expensive than Hostinger
Chemicloud Black Friday Sales
Save Up to 80%
Starts on November 04, 2023
Ends on November 30, 2023
FAQs related to ChemiCloud Black Friday Offers
ChemiCloud is a fast, secure, and reliable cloud web hosting provider founded in 2016 and serving worldwide.
Does ChemiCloud offer free Domain Name Registration?
Yes, ChemiCloud offers lifetime free domain registration, so you don't need to renew your domain every year.
Does ChemiCloud offer Money Back Guarantee?
Yes. It offers a 45-day money-back guarantee period.
Does ChemiCloud offer Free Custom Email?
Yes, ChemiCloud allows you to create an unlimited number of emails for your domain.
Conclusion
That's all about ChemiCloud Black Friday Offers.
Overall, my experience with ChemiCloud has been positive, and I recommend giving it a try without trying another hosting provider.
If you're looking for fast, secure, and reliable cloud hosting for all your website needs, ChemiCloud is the right choice.
Check out the other Black Friday Deals:
ChemiCloud Black Friday Discount: Save 80%🔥
Summary
ChemiCloud is a fast, secure and reliable cloud web hosting provider founded in 2016 and serving worldwide. Get up to 80% OFF this Black Friday!